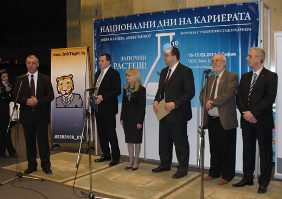 Tenth anniversary edition of "National Career Days" forum starts today, March 16, 2011, at the National Palace of Culture in Sofia. The official opening was witnessed by Krasimir Popov - Deputy Minister of Labour and Social Policy, Svetlana Naidenova - Deputy Chairman of the Committee of Labor and Social Policy in the National Assembly, Dr. Konstantin Trenchev, president of CL Podkrepa, Emil Dimitrov - Activity Coordinator II IBDT "Support for decent work "CL Podkrepa, Svetlozar Petrov - Manager of JobTiger Ltd. and Zbigniev Valkievich - CEO of Nestle Bulgaria Ltd.
"National Career Days 2011 – Good Career, Good Life" is organized by JobTiger, which also celebrated its tenth anniversary and with the traditional support of one of the largest food companies in the country - Nestle Bulgaria. The company is sponsor of "National career days" forum for eighth consecutive year.
This year the forum will be held at 7 university cities and will bring together employers, young professionals and students. Young people will receive information on the conditions and requirements of companies for employment and will be able to choose the best place for themselves by analyzing their skills and desires for professional development. For the event in Sofia, 92 companies have registered.
Nestle Bulgaria is, traditionally, the general partner of the "National career days" forum, in accordance with their principles of creating a shared value and commitment to socially relevant initiatives in support of young people. This partnership is a natural continuation of company's long-term internship program that has allowed many students to gain practical experience in real business environment. Short-term and year-round internships raised great interest among the candidates as they give the possibility for smooth entry into the professional environment. Internship programs have been developed successfully for 15 years, so far they have involved over 200 students and over 80% of them stayed permanently in the company.