The internship programs - a guide for finding out the best one
You want to start a
good job
after graduating, don't you? However, achieving this aim requires a little more than excellent marks at school and extracurricular activities. Even though
employers
highly estimate such things, they usually are not enough for getting a good job. Many of them take the stand that the perfect candidate among graduates is the one who have a real work experience as well.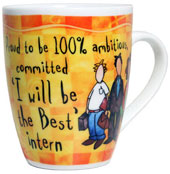 And the effective way of gaining real work experience is the internship. This is why we will try to give much more information about the internship programs and offer you a strategy for finding your own internship.

What does an internship mean?
The internship is a structured model for acquiring knowledge, skills and working habits in a real working environment. The main purpose of the students is to learn more for their professional interests and to receive valuable experience in a particular business field.
During the program the trainees work as any other employee in the company with the only difference that they are observed and mentored. In their best version the internship programs are developed to help trainees to find their professional bearings and so can define clearly if this is the job of their interests and abilities.

Are internships important?
The internship programs are really substantial for the students preparing for the real working life and in this meaning they should be an integral part of their academic education. And the reason is that the most valuable working experience is gained through practice in a company developing in the field of professional interests of the student.

Besides, internships:
put to the test your skills and interests;
clear what you should do to keep your work;
develop a network of professional contacts for future opportunities;
show you what you don't know and can't do;
provide rich working experience (for example, communication skills in business environment);
are additional strong side in your CV.
When shall I start planning my internship?
The right answer is "as soon as possible". The best practices show that the right moment for starting internship is in the second or third year of your education. This is after you have got into university atmosphere and have time to decide what you want.

When are internships offered?
In most cases internship programs are carried out in the summer but this doesn't mean you won't find out all-year ones.

When can I start applying?
Different organizations set different deadlines for applying. You should check often the applying procedures in the companies of your interest. Don't forget that the appropriate preparation and planning are the key factors for getting the desired internship.

How many hours should I work during internship?
The summer internships can be full-time or not fixed working time. These details depend on the company and on the position.

Are the internships paid or not?
They can be both paid or not paid again depending on the business field or the company. If the internship is not paid, you most probably will be occupied for a few hours and will have the opportunity to find another job. However, most of the summer internships are paid; even more, some companies undertake the transportation expenses to and from the working place.

Should I undertake anything special before I start looking for an internship?
Regardless if you now start your professional development or already have certain experience, it will be really useful for you to self-evaluate yourself. Evaluate your interests, skills and strivings. Choose a field of professional development that best fits you.

Where can I find internship?
the career center of your university;
the specialized jobs and internships web sites, as well as the web sites of the companies of your interest.
career days, especially organized between the universities and the business;
press – look in the job postings sections;
social contacts;
lecturers/staff from your university;
former students;
parents, family, friends.
Work out your internship program
Think of a person you know who works in "your" professional field. Talk to him/her about the internship opportunities at his/her working place and most probably you will find out a suitable one for you. And don't waste time for sending your application!

At the end ...
After all these advices you most probably have cleared up where and how to start your professional development. Go on!
And we wish you luck!
---
Comments (2/2)
Митко Георгиев
2011, 1 March 10:06
Здравей,
Пробвай с менюто "За нас", долу в дясно е.

Поздрави
Kaloyan Dimitrov
2010, 1 March 14:02
Moje li da niama edin telefon v tozi sait ???
Personal comment: