Global Career Development Facilitator Certification Program (GCDF) 2010-2011
Global Career Development Facilitator
is an international training program for
career counselors
with main focus at development of the
employees
as individuals and in teams and in this matter - suitable for
HR professionals
and managers at various levels.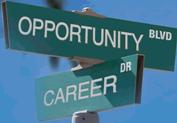 The program is developed by the largest organization of counselors in the world –
NBCC International
(National Board of Certified Counselors) and is the most successful program of the board till now. It has been recognized in more than 40 countries all over the world – for example USA, Canada, New Zealand, Japan, Romania, Germany, Italy, Switzerland, Bulgaria, Turkey, ant etc. The program is adapted for Bulgaria from JobTiger.bg and
NBCC Bulgaria
.
The main focus of GCF is developing knowledge and skills for
evaluating
people's potential, strengths and areas for additional progress, as well as skills for
consulting
,
coaching
and
mentoring
.

Consulting and assisting the life-long learning and growth are two universal skills, applicable also in:
Recruitment;
Creation of models for staff evaluation;
Evaluation of the training needs;
Elaboration of development programs – for individuals and in teams;
Development of soft skills;
Conflict settlement;
Employee motivation;
Team management;
Providing and receiving of constructive feedback;
Observation and control of the development process;
Trainings and presentations in front of groups;
Management;
Employee guidance and dismissal;
Customer counseling for appropriate professional realization.
During the certification program trainees experience the whole consulting process and can experiment different techniques and instruments in order to find their own style of work.
The training process includes many psychological methods both popular and easily applicable in a professional environment. The methodology is developed on the basis of the positive reflection (
PAAR method
) and faces entirely the strength, skills and knowledge of the person without underestimating and neglecting the needs and opportunities for growth.
Training format
Preliminary self-preparation - includes studying materials, cases solving and exercises. The participants target is receiving feedback from the trainers and adjusting the group level before the start of the training sessions.
Training session - practical role-playing of the stages of career guidance in various situations;
A case study with a real client (time for self-preparation between the two sessions);
Training session - supervision of the participants case studies (two days).
At the end of the program trainees obtain a certificate - a Bulgarian or an international one (optional).

Training takes place
When a group of 10-12 participants is gathered.

Training price
1180 BGN, VAT excluded (with international certificate from NBCC International).
880 BGN, VAT excluded (with certificate from JobTiger.bg);
Contact us for more information:
E:
gcdf@jobtiger.bg
T: +359 2 4918 019
M: +359 882 78 17 65