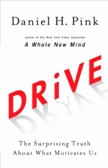 What pushes employees to do their
best work
? Many businesses operate under the belief that the key to motivating workers is giving them
tangible rewards
, such as a cash bonus or a corner office.
In the book Drive, business writer Daniel H. Pink argues persuasively that these companies have it all wrong. He cites a body of behavioral science research that suggests that optimal performance comes when people find intrinsic meaning in their work.
See the visual explanation of the theory by Daniel Pink himself.