Modern lifestyle is characterized by high degree of immobility, poor nutrition, stress and chronic tiredness that depletes the inner resources of a person.

Some people try to compensate this with sport, intense exercises or episodic rather entertaining movements but often find that they wear out more or injure.

The next few lines will introduce you to how important it is, the movements to be carried out correctly, consciously and controlled, to have an effect on the overall functioning of our body and nervous system. Things are connected, and in the information age we have no excuse for ignorance on our own health.

If you do not believe - we suggest you to try! Alone or with colleagues, and why not the whole company!
Exercises to regulate and harmonize your body
Why exercises?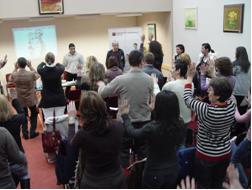 The purpose of the system of exercises for regulation of body functions is to increase the motive culture of people and to create movement, nutrition and introspection habits. It comes from the theory of traditional Eastern medicine and the practice of martial arts.
A major focus of the exercises is the vertebral column and the ways in which the vertebrae interact with all internal organs and the nervous system.
The exercises do not overtax the cardiovascular system. They combine the movements of the spine, joints, muscles and tendons with stretching and breathing. After the first workout skeletal system begins to set in the normal position. The posture sets straight and your body feels relaxed and easy.
And do not think that advertising here is more, because recently in Sofia tests have been conducted on people with different diseases and the results themselves revealed how useful are the exercises.
The specific set of exercises has exclusive role in disease prevention, increasing efficiency and quality of life for practitioners, such as:
improves body metabolism and reduces bad cholesterol;
improves the supply of blood , brain ,nerves and tissues with oxygen;
keeps joints flexible and makes tendons and muscles healthy;
assists discharge of toxins and enables all organs and systems to work at optimal regime;
helps to overcome stress, improve mood and increase efficiency.
Coach:
Kiril Hinkov teaches martial arts, self defense and exercises for body control as a member to the Bulgarian Shotokan Karate-do Federation and the Bulgarian branch of the World Dzhudzhitsu Federation.
How and where you can try them?
Information on the places of individual training and opportunities for corporate training you can get from the team of JobTiger; phone number: 02 49 180 24 or e-mail:
office@jobtiger.bg
.
What is the training?
The main program consists of four modules that can be combined depending on the spare time and the willingness of the practitioners:
1st variant: all-day training, including four modules (1 day);
2nd variant: 2 x 2 modules (half-day in 2 consecutive weeks);
3rd variant: 4 times 1 module (four days within two weeks);
4th variant: your choice!
The training is suitable for self-conduction (every day or at individual components) and as part of team building or other corporate event.

Places:
In our room;
Company preferred room;
Appropriate business premises, in the presence of such.
For more information:
| | |
| --- | --- |
| JobTiger Ltd. | Kiril Hinkov |
| Ò: 02 49 180 24 | Ì: +359 882 744 783 |
| Ì: 0888 379 386 | |
| office@jobtiger.bg | |