Follow the change

About 10 year ago all available job positions were published in the newspapers. Employers were suspicious to internet and easily got afraid from such things as "register", "fill in the fields" and "order". And it was so hard, almost impossible to deal with checking applications online, despite of the technological achievements, accessible even then.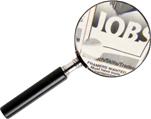 Nowadays is different. Today all available jobs are in internet. No matter whether you like it or not, whether you believe them or not, whether you take in mind this fact or not – nothing can stop you from learning how to use internet to look for a job. Nothing will stop you from trying until it happens as long as you are active and serious.
Here are some other things you could try in order to save your time, worries and nervousness.

1. Check the validity dates of the job postings
Some websites do not take the care to hide the expired job postings. Do not waste time for writing CV and cover letters if you are not sure the posting is still valid. If the posting is about to expire you better try contacting the employer via email or phone to check if they continue hiring people.
2. Check the new job positions every day
If you do not want to be the 635 applicant, keep an eye on the jobs websites every day and react quickly to the positions that correspond to your interests and abilities. As soon as your application reaches the employer, the better chance you have for success.
3. Read everything
Some people make the mistake to look for positions in limited perimeter. Read all new job postings – this way you will know what happens on the market, as well as some ideas for searching a job may come to you.
4. Take care from fake job postings
If something sound too good to be true, so most probably it is not. You will not be the first, or the last victims. So, be careful about the documents you sign.
5. Do not become a spammer
A few years ago an applicant became real record-holder – he made 997 job applications for less than a month! Be careful about the positions you apply for – do it just for the ones that are realistic for you.
6. Use your friends and connections
People use their connections, relatives, friends to find a job not only in our society. Use each opportunity you have to search information and use it in your favor. And be always prepared.
And at the end the fact you lost your job is not the worst thing in the world. It may become one the best events around you lately. Just because this is a change. A change that will make you think about your lifestyle and will give you a real opportunity to change it for better. Just be stubborn enough! Good luck!
More advices and details at the JobTiger office phones or at
office@jobtiger.bg
.