Despite all the choreography and not a few comic moments about TV political debates prior the elections, we can look at them as to long job interviews and learn how to have more success in meetings with employers.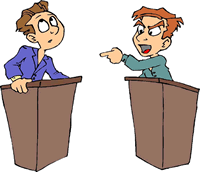 Lessons we can apply in our next job interview include:
Body Behavior.
Can you see how easily some candidates stand. Feet firmly on the ground, do not spin, do not stir their hands, necks, eyes, do not say "um", "well," "right" between words. Do not sink in the awkward questions, look normal and not as Shakespearean actors or hobo. This allows the interlocutor (the audience for more complex interviews) to focus on answers rather than the behavior of the body. This is achieved with trainings – in front of the mirror, in front of experts, in front of friends.
Ready for action.
They seem like they can't be surprised by anything and their answers do not reveal issue or concern, or "hitch". This is also achieved with exercise and preparation of questions that can be asked. Of any type.
Eye contact.
Two things are relevant to the interview - to maintain direct contact with the host of the interview and maintain eye contact with other attendees. Nobody talks with eyes staring at the floor, in the table or in your CV. The ability to look into the eyes your interlocutor shows poise, calmness and ability to communicate. We do not include staring here.
Listening and sifting of important information.
Some politicians take notes while others speak. Facts, thoughts, ideas said by opponents. In a chance they use them to stand out and to collect additional bonus points, depending on their overall strategy. Well, this is less popular tool during the interview, but makes very good impression. Take notes and ask clarifying questions, and not too much to catch each word. This will definitely impress people and show your skills and your desire for effective and clear communication.
Surely, and other aspects of the political debate can be considered and used during the job interview. It is important to learn to use what is around us and use it to realize ourselves. Whether you believe in politics or not.
If you have similar examples - share them!
You can read the original article at:
http://blog.brazencareerist.com/2011/11/01/what-political-debates-teach-us-about-successful-job-interviews/?utm_source=Brazen+Careerist+Community+Newsletter&utm_campaign=ce02723dfe-No_3_Newsletter&utm_medium=email